William Wyler (1902-1981)
.
Légende :
scène(s) très violente(s) :-(
šaucune violence :-)
violence légère, pour rire ;-I
The Best Years of Our Lives (1946 Les plus belles années de notre vie), avec Dana Andrews, Fredric March, Harold Russel, Myrna Loy, Teresa Wright.
.
This video pays tribute to the legendary film composer, Hugo Wilhelm Friedhofer, who received a much deserved Oscar in 1947 for his brilliant, much lauded score for the William Wyler directed film ...
https://www.youtube.com/watch?v=NIqBdbL0MT4&list=PLg-jS7VWuFqfoBQBjYaPLmw5kdrqPPCrE
The Heiress (1949 L'Héritière), avec Olivia de Havilland, Montgomery Clift, Ralph Richardson, Miriam Hopkins... :-)
.
Roman Holliday (Vacances romaines, 1953), avec Audrey Hepburn, Gregory Peck, Eddie Albert... ;-I
Friendly Persuasion (1956 La Loi du Seigneur), avec Gary Cooper, Dorothy McGuire, Antony Perkins, Phyllis Love, Richard Eyer, Peter Mark, Robert Middleton.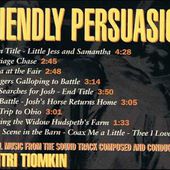 FRIENDLY PERSUASION - main title (original soundtrack)
This is the original soundtrack from the film "Friendly Persuasion" of 1956, starring Gary Cooper. Music composed by Dimitri Tiomkin.
How to Steal a Million (1966 Comment voler un million de dollars), avec Audrey Hepburn, Peter O'Toole... :-)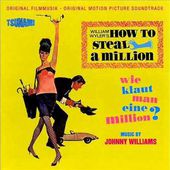 How To Steal A Million | Soundtrack Suite (John Williams)
Original Motion Picture Soundtrack (1966). Composed and Conducted by John(ny) Williams. HAPPY BIRTHDAY MAESTRO WILLIAMS ! Please note that the rights belong to the owner. Support the publishing ...